If your graduation date is coming up soon, you've probably given a thought or two to grad school and whether it's the right choice for you. If you're feeling unsure, we've got a few tips to help you choose your next adventure after grad. 
Why attend grad school?
If you love learning, grad school might be beneficial to you. Grad school gives you the opportunity to:  
open yourself up to different aspects of your field

 

help you get certain jobs

 

open up potential teaching opportunities. 

 
The options are endless, so check out some programs to help you narrow down what you want. 
How to figure out if grad school is right for you
Start by thinking about your career goals. Does your dream job require a graduate degree? Is there a reason you need to start your degree right away? One option a lot of students choose is to join the workforce after their undergrad, and go back to grad school later. If you're not sure you're ready for grad school, there's no rush. Take your time to really consider what you want out of your education and your career. If you're leaning towards grad school, check out what kind of programs are out there to see which ones might be a good fit for you. 
Some common misconceptions about grad school
You have to attend grad school right after you finish your undergrad
Everyone's post-secondary experience is going to be different, so don't be scared to take things at your own pace. Deciding to go back to school after you've been in the workforce a few years is valid. Deciding to change your career path twenty years after your graduate is valid. Some graduate programs even require some work experience, so don't worry about having a perfect timeline. 
You have to be a straight-A student to attend grad school
While graduate programs are generally more competitive than undergrad programs, that doesn't mean you need a 4.0 GPA to apply. Do your research about different programs and their academic requirements. 
Only students in medical fields benefit from grad school
Graduate programs can be beneficial to any student, and you can find grad programs for so many different types of specialization. Don't be afraid to pursue a graduate degree, even if you're not sure how your undergrad degree translates to a grad program. Do some research on different schools and programs to find one that interests you. 
Some common mistakes students make when applying to a graduate program
Lack of research
Grad school is a big commitment, so you want to make sure you're committing to a program you'll get the most out of. As you research programs, think about which programs work best with your personal goals and consider potential supervisors to support you through your program.  
Missing deadlines
Deadlines are always important in any application process, so don't forget to keep track of them. We recommend keeping a spreadsheet of all your deadlines, along with a list of potential supervisors for your program. Don't forget to give yourself lots of time to connect with these faculty members to figure out how you'll fit into their team. 
Next steps
If you're interested in pursuing a Master of Arts in English, Master of Fine Arts, or Digital Arts and Humanities as an Interdisciplinary Grad Studies Program, grad program coordinators are holding an info session for these programs on November 16. You can register for that session here: Thinking about Graduate School? 
If you're planning your application for a graduate program at UBC Okanagan, the College of Graduate Studies is holding a webinar about building a strong application on November 18. You can register for that session here: Applying to Graduate School at UBC Okanagan. 
Whether you choose to go to grad school, jump into the workforce, or take some time to yourself after you graduate, remember to take life at your own pace and do what feels right for you.
---
About the author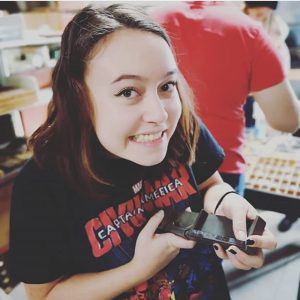 Sarah Kloos is a transfer student from Okanagan College. She's a Creative Writing major, a collector of cool rocks, and a lover of novels. While she's still not 100% sure what she's going to be when she grows up, she's okay with that. For now, she's learning everything she can from her co-op work term, and loving every minute of it.