University life can be complicated, especially when you're just getting started, but you don't have to do it alone! This year, all UBCO students can access the Peer Mentor program, an all-star team of upper-year students who are trained to help guide you through the ups and downs of student life. Whether you're brand-new to our community, a 2nd-year student who's new to campus, or an upper-year student who's feeling a little rusty, Peer Mentors are here to answer your questions, provide tips and tricks, and help you make the most of your university experience.  
Read on to learn more about some of the things Peer Mentors can do for you. 
What can Peer Mentors assist with?
Finding the right resource
What health and wellness services are available on campus? How do I access the Student Learning Hub? Who should I talk to if I'm having trouble with my classes? And what the heck is a collegia? Here at UBCO, we're extremely lucky to have a wide variety of resources and opportunities available to us on campus, many of which you may not be familiar with. Whether you're looking for extra assistance with course content, want to get involved with equity initiatives on campus, or anything in between, your Peer Mentor can help point you in the right direction.   
Improving study skills
University is first and foremost a place to learn, but have you ever really learned how to learn? Figuring out how to study effectively is a key part of every student's path to success, and guess what: Peer Mentors can help with that, too! Peer Mentors are specifically trained to help you develop important study skills such as time management, note-taking, exam preparation, and more. It's never too early or too late to build new study habits, so no matter where you're at in your university journey, don't be afraid to connect with a Peer Mentor for guidance.  
Staying in the loop
Clubs and course unions and social events, oh my! There's never any shortage of extracurricular activities at UBCO, and Peer Mentors want to help make sure you're aware of them. There's something on campus for everyone, so whether you're looking to get involved with volunteering, have a specific interest you'd like to pursue, or are just looking for something to do, your Peer Mentor can help keep you up-to-date on the latest happenings around campus. 
Building community
Ask any UBCO student what their favourite thing about UBCO is, and most of them will tell you about the sense of community they've found here. (B.A.R.K. or the Ice Cream Club would probably be close seconds). Especially after a year of virtual learning, building community is an important element of the Peer Mentor program. Not only will your Peer Mentor be a safe, friendly face for you around campus, but they can help connect you with the broader community as well. Be sure to keep an eye out for Peer Mentor-facilitated social events, and ask your Peer Mentor about other opportunities for making new friends at university. 
Insider tips and tricks
Campus resources can be super helpful, but you may find yourself needing a student perspective. The Peer Mentors are here to provide just that. From buying (or not buying) textbooks to finding the best study spots and everything in between, your Peer Mentor has experienced first-hand the ins and outs of being a student at UBCO and can offer unique pro tips for navigating student life.  
Meet your Peer Mentor
Ready to connect with your very own Peer Mentor? New-to-UBC students are automatically added to the Peer Mentor Access Hub on Canvas. If you're having trouble finding it, try checking under All Courses. Returning students can request access to the program on the Peer Mentor web page, where you can also find the Peer Mentors' biographies and more information about the program.  
Whether you have a small question, need help with your student experience, or are even just looking for someone to chat with, don't be afraid to reach out to the Peer Mentors – they'll be there for you!  
---
WRITTEN BY BETHANY KOLISNIAK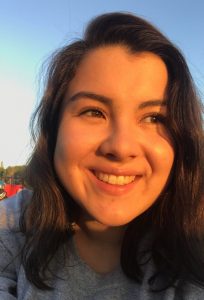 About the author
Bethany Kolisniak is a Microbiology major from Winnipeg, Manitoba. In her spare time, you can find her playing the guitar, going for hikes, or making balloon animals. She is passionate about advancing equity in healthcare and hopes to do so in her future career, whatever it may turn out to be.