Did you have watery ramen and a spoonful of peanut butter for dinner last night? Again? What's on the menu tonight? Microwave mac 'n' cheese? Ketchup and crackers? Well, while these meals are quite cheap and mostly edible, they are not the most balanced or satisfying. With the deep winter (and finals season) approaching, we cannot afford to compromise our mental health and energy levels; both of which are fuelled by a nutritious diet.  
It is easy to feel overwhelmed by the idea of eating well. The good news is that managing a nutritious diet does not need to be expensive or time-consuming. Here are five tips that you can follow to help your meals better fuel your body. 
Tip 1: The mathematics of meals
It may seem impossible to eat well without completely changing your diet, buying overpriced "healthy" or "organic" alternatives, or giving up your favourite foods. But this is far from the truth. Instead of giving up your favourite foods, think about how you can increase the variety of what you are eating. 
When trying to create a nutritious meal, focus on what you can add rather than subtract. A balanced meal includes protein, carbohydrates, fats, and fruits and vegetables along with fibre and water. You can make any meal more nutritious by adding the right components to it.  
For example, you can start by adding more leafiness and greens to your instant ramen, more protein to your microwave mac 'n' cheese, or more nuts and berries to your easy oatmeal.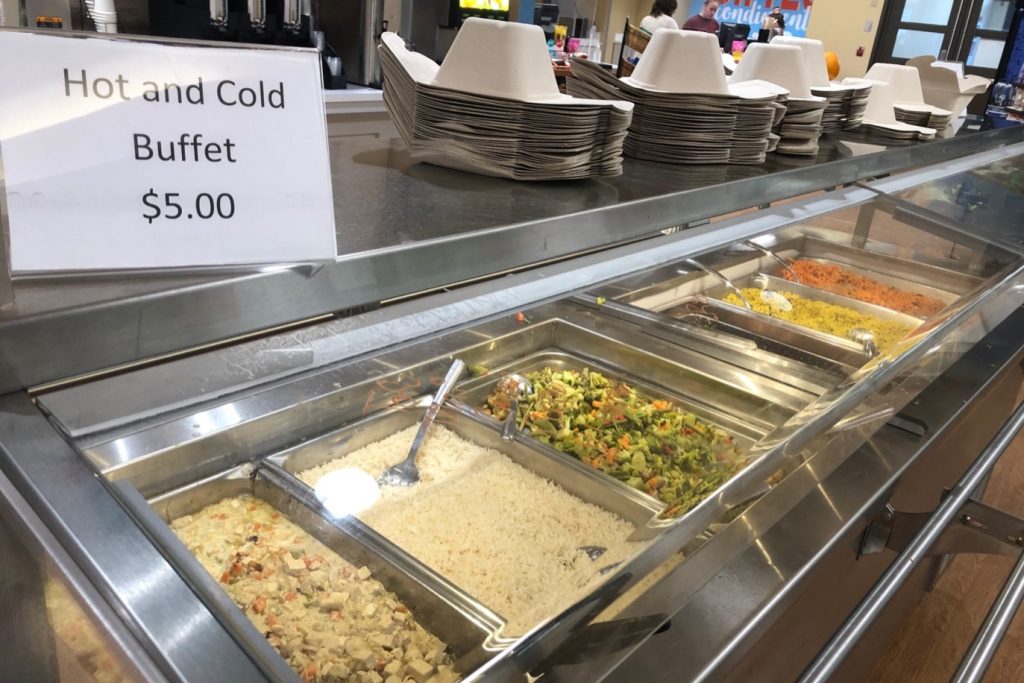 UBCO inside scoop: The 5-dollar buffet at Sunshine has a lot of hot and cold options which can be a perfect accompaniment to your lunch! 
Tip 2: Let your fears of frozen food go!
While slap-cooking a chicken at 3725.95 mph is slightly difficult, most frozen food is a quick, easy, and affordable alternative. Frozen ingredients are also very versatile and can be made healthier and more nutritious with the right additions. Keeping in mind the first tip, think about what you can add to your meals. Try adding veggies and protein to your frozen pizza, fresh fruit to your Eggos, or healthier sides and sauces to your fries.  
Frozen and pre-cut vegetables can be a healthy and time-saving addition to your fridge to help make every-day cooking easier and less stressful. Not only can frozen veggies be just as healthy as their fresh counterparts, they can also be a more economical, longer-lasting, and less wasteful choice.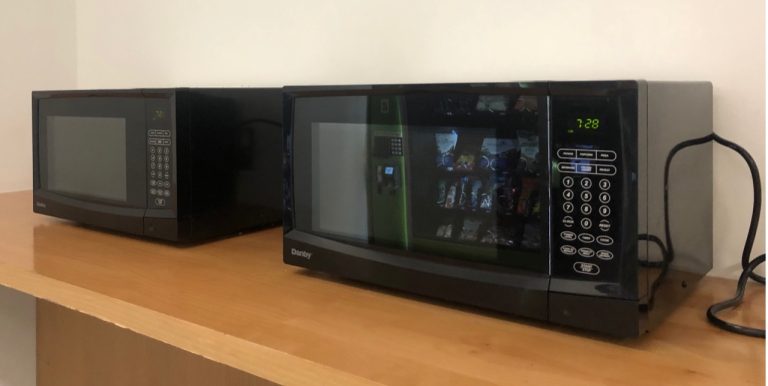 UBCO inside scoop: Be sure to look out for the many microwave stations on campus, notably on the first floor of the UNC, the Collegia spaces, and the zero floor of the Commons.
Tip 3: Become a hydro homie
Are you hungover, dreading your midterm, or plain sick? You might just be dehydrated without even realizing it. Dehydration causes headaches, fatigue, low energy levels, and impaired brain function. Instead of waiting to feel thirsty, try incorporating small and frequent water breaks throughout your day.  
Staying hydrated can also help with hangovers and promote healthier drinking habits. Since alcohol is a diuretic, it makes you lose more water than you consume. An effective way to reduce or prevent hangovers is to drink a glass of water between drinks and before going to bed.  
So, remember to drink at least 2 litres of water every day. With several water filling stations around campus, armed with a reusable water bottle, this goal should not be too hard to accomplish. Make it a game for yourself by sipping water or refilling your water bottle each time you see a water station on campus. Keep it interesting!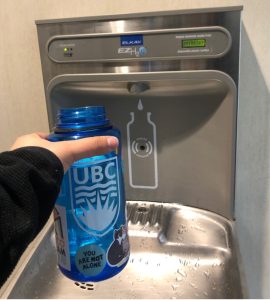 UBCO inside scoop: Consider buying a reusable water bottle (like this one from the bookstore) to carry around campus. You can personaliZe it by adding cute stickers! 
Tip 4: Real snaccs snack well
In the unforgettable words of Lizzo, "[you're] not a snack at all, baby [you're] a whole damn meal." It can be tempting to skip or replace meals with unhealthy snacks like chips or candy, which do not provide your body with the required energy or nutrition that it needs. While snacks shouldn't replace meals, they are helpful in keeping you energised between meals.  
Healthy snack options include dried fruits, popcorn, pretzels, and fruit. It is also helpful to have these with filling sides like yogurt, nut butters, or nutritious dips. These snacks will keep you filled, fuelled, and focussed for those long study sessions.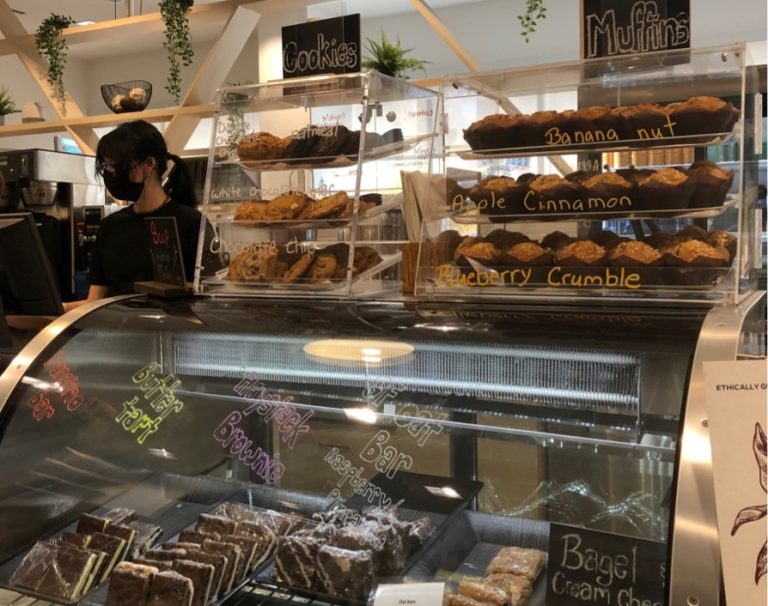 UBCO inside scoop: Check out these great bakery options at Comma, which also include vegan and made-without-gluten options! 
Tip 5: Don't let your bones get crunchy!
Science says crunchy bones lead to smoother brains, which we don't want. Calcium not only promotes stronger bones and teeth, but can also improve your mental health. A low level of calcium may induce irritability, anxiety, and difficulty sleeping. Humans need about 1000 mg of calcium each day. This can come from dairy sources such as milk, cheese, and yogurt. You can also find them in non-dairy sources such as kale, spinach, bok choy, tofu, and nuts like almonds and hazelnuts.  The body keeps building up bone mass until the age of 30. And so, consuming enough calcium, especially before the age of 30, is essential. 
Your body also needs vitamin D to absorb calcium. In the winter months, due to lack of sunshine, your body might also require supplements to absorb vitamin D better. So, remember to up your intake of calcium and vitamin D in the coming months!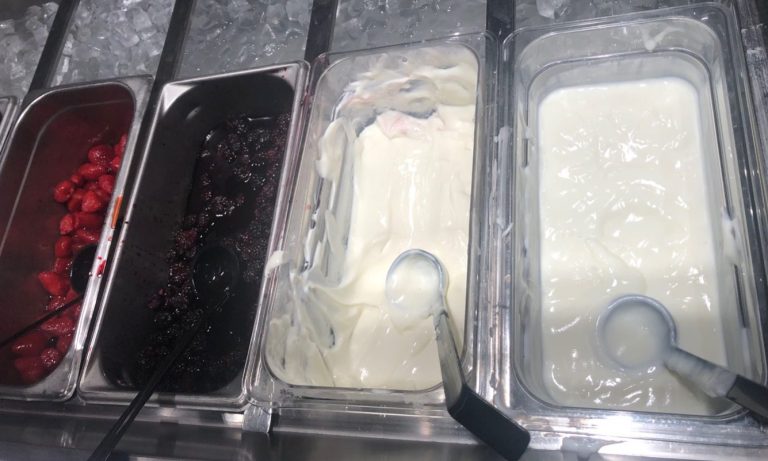 UBCO inside scoop: Next time you eat at Pritchard, do not forget to check out their amazing smoothie station with many great calcium-rich options! 
Eating well not only improves your physical wellbeing and mental health, it can also be a great social experience that can help you feel better supported by and connected with others. Think about starting a dinner club with your friends or roommates to keep you in the habit of eating and cooking more satisfying and nutritious food together.  
Are you struggling to eat well? Check out these campus resources to help you out!  
A student-led, anonymous food bank committed to combatting food insecurity on campus. Check out the space in UNC 133, right next to The Well pub. 
Located in UNC 337, be sure to check out the Student Wellness clinic on campus for all your health-related queries. They offer counselling services and referrals.  
This blog by UBCO Food Services has some amazing tips on how to dine with allergies and maintain a balanced diet, and provides info about food options on campus! They also have a dietitian who you can consult. 
---


ABOUT THE AUTHOR
Sanaa Shaikh is a second-year international student from India. She is studying Philosophy, Politics, and Economics with a minor in Spanish. Sanaa loves spontaneous trips, petting small animals, and starting new projects that she'll never finish. Her favourite thing to do in Kelowna is getting ice cream downtown and chilling by the marina.