As a student, your time is your most precious asset. Between going to class, doing your assignments, completing your readings, studying, and trying your very hardest to be a functioning adult, it's hard to find hours every week to clean your home. Here are some tips to help you keep your house clean without taking FOREVER. 
Channel your inner Loonette the Clown with a ten-minute tidy
Okay, I know it's supposed to be the ten-second tidy, but you get the gist. Every day, take ten minutes to tidy up your space, whether that means picking up loose items, cleaning out your backpack, or wiping down your counters. Trust me, it makes the big tasks seem way less daunting when you're working on them a little bit each day. 
Don't put it down, put it away
I am the worst for putting something down and forgetting about it until things pile up. Don't be me. When you're finished with an object (empty cup, your crochet project), put it where it belongs, not on your side table. This makes big cleaning sprees way faster. 
You probably don't need to buy expensive cleaners to get a clean home
You'd be surprised how many cleaners are basically vinegar, lemon, and water with a $10 price tag. Here's a list of homemade cleaners you can make on a student's budget: 8 Best Homemade Cleaners. Just be careful mixing cleaners or you could have a situation more toxic than your ex. Here's what to avoid. 
When you have to do a big clean, make the experience enjoyable
Listen to a podcast, audiobook, or music to make the job faster and more fun. Or condition yourself to like cleaning by rewarding yourself with a cookie (or a bath in your newly shined tub) when you're done.  
Get out there and make your house sparkle! But before you go, leave your favourite cleaning tip in the comments. 
---
About the author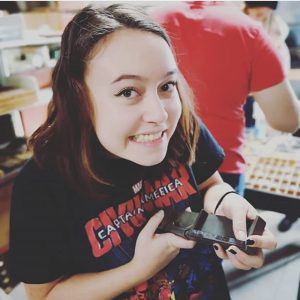 Sarah Kloos is a transfer student from Okanagan College. She's a Creative Writing major, a collector of cool rocks, and a lover of novels. While she's still not 100% sure what she's going to be when she grows up, she's okay with that. For now, she's learning everything she can from her Work Study experience and loving every minute of it.