Preparing for graduation means preparing for a big change in your life. For some of us, this will be the end of our educational path, for others, this has been a crucial step in their educational journey. Anyone else struggling to comprehend what's coming next? Cool. Let's work through this together.  
Sarah's working bucket list
I'm going to make the most of my university experience while I still can. The easiest way to do that is by making myself a bucket list of things to look forward to before May. Here's what I have so far:  
Attend a UBCO Heat game (preferably volleyball, but I'll take what I can get)

 

Do an interview prep workshop with Career Services (for someone who writes so often, my speaking skills…could use improvement)

 

Go to the Paper Shell launch in March

 

Finally go to some sort of trivia night at The Well.

 
What do you think? Am I missing any essential UBCO activities? I will be taking suggestions in the comments.  
Here are some things to consider when you make your own… 
Get in a workout with Rec
You could work out in the Hangar, join a group fitness class, try a Skiing or Snowboarding event, drop in for Open Gym hours, or get a Spring tune up at UBCycles. Check out the Rec webpage to see all the different activities they have on the go!
Check out an event at the Well
They constantly have trivia nights, themed bingo, or other fun events going on. There's a How I Met Your Mother trivia night happening on March 16 at 7 pm. Check out their Instagram to see what else is coming up. 
Go to all the events!!
There are so many events that are free (or discounted) for students, so get out there and take advantage of them. The UBCO Events Calendar is your new best friend. Go to a Heat game, go to the Well, go to an art or anthropology seminar. It'll be fun! 
Volunteer in your community
The Get Involved office has lots of on- or off-campus volunteer opportunities to try out. 
Get ready for the job market with Career Services
Careers can help you improve your resume, cover letter, and interview skills. They also run workshops and networking events to build your confidence as a potential employee. I dare you to check out at least one of their resources before you graduate. 
Give yourself time to say goodbye to your undergrad degree
I'm extra sentimental about endings, so I'm giving myself time to slowly say goodbye to the things I love most about UBCO. Take time to visit your favourite buildings and snack spots.  
Write a letter to your favourite prof and give it to them (or don't)
I've been appreciating the little things profs do to make things easier for us. They bring their joy, enthusiasm, and consideration into the classroom for us every week, and I'm going to miss that. 
Assess your mental health (while you've got medical insurance)
Flexible mental health resources are too important right now, NGL. The Student Assistance Program is a 24/7 wellness resource which gives you the option to talk to someone over the phone, video chat, or face to face.  
You're up!
How do you feel about the end of your undergrad degree? Ready to make the most of your last few months as a student? Let me know what you think needs to be on the essential UBCO bucket list! 
---
About the author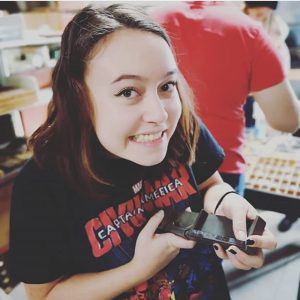 Sarah Kloos is a transfer student from Okanagan College. She's a Creative Writing major, a collector of cool rocks, and a lover of novels. While she's still not 100% sure what she's going to be when she grows up, she's okay with that. For now, she's learning everything she can fr