Looking for a new outdoor activity this summer? Hiking is a great way to get out and enjoy nature while also getting in some physical activity. It's a win-win! Before you get out there, you'll want to know how to pick a good trail, what to pack in your backpack, and how to prepare for your first hike. We've got you covered with tips to get you started on your hiking journey. 
How to read a trail description
There are two things you should consider when choosing a trail: the length and the elevation. I know it's tempting to try that 13km hike right away, but it's better to start smaller with a five-ish km hike and work your way up to longer ones. It's also important to pick a trail that has an elevation gain of fewer than 155 m per kilometre (or try calculating your trail's difficulty through a website like Hike Difficulty Calculator).  
When in doubt, do a little research about the trail. Check blogs, or hiking websites to see what other people are saying about the trail.  

What you may need to get started
Like most sports, hiking requires some gear. Some of the gear will vary based on what kind of hiking you're doing, but here are a few items you should consider before you hit the trail: 
Shoes:

 A good rule of thumb for shoes: for trails with low elevation, or easy terrain (like a paved trail), your runners will work just fine. If you pick a trail with a higher elevation or some rockier terrain, you may want to invest in a pair of hiking shoes. *

Note: you always, always, always want your shoes to be well broken-in. The last thing you need on a 10 km hike is blisters from new shoes.

 

Water:

 This is the most important thing in your backpack. Hydrate before, during, and after your hike. Pack more than you think you'll need, just trust me. A good rule of thumb is 500ml to 1L for each hour of hiking. 

 
If you have a backpack with a water bladder (like a CamelBak), use it! They're super convenient, especially for beginner hikers who aren't sure how much water to pack!

 
Snacks:

 Your body is going to need some energy to help you climb that summit (or hill, for those of us just getting outside again after COVID), so it's important to pack nutritional snacks like carrot sticks or nuts. However, it's also important to pack snacks you'll enjoy, so don't feel like you can only pack healthy snacks. I traditionally pack a big chocolate bar to eat at the top, so feel free to get creative with your hiking snacks.

 

Layers:

 Depending on your trail, you may have some varying weather conditions at different points of your hike. Pack a sweater and/or raincoat, and a hat if it's sunny.

 

A camera:

 Even if you just bring your phone, you'll probably want to take pictures of your lovely landscape. One of the big draws of hiking is the view, so make sure you snap lots of pics, and tag us on Instagram @ubcostudents!

 
Some other stuff you should know
Before going out on your hike, here are some things you should consider: 
The weather:

 Check the weather in the area before you leave home to see what conditions you might have on your hike. If it's raining heavily or reaching high temperatures that day, consider rescheduling your hike for another time.

 

Wildlife:

 When going out in nature, be mindful of the animals that live in your area. For example, some animals to watch out for could be bears

,

 or snakes. Be aware of what's in your area, and research what to do if you encounter these animals on your hike.

 

Hiking with a buddy:

 It's always a good idea to hike with other people. If you can't find anyone on your contact list who wants to go, consider joining a hiking Facebook group in your area. These can be great resources for learning to hike wherever you live.

 

Leave no trace:

 The biggest hiking etiquette rule is to leave no trace behind. Be aware of your impact on the environment, and don't leave any litter on the trail. Learn more about the leave no trace principles.

 
Get started in the Okanagan
If you're living in the Okanagan, here are seven easy hikes to get you started: 
Get out there and enjoy some fresh air and sunshine on the trails! Comment down below with your favourite hikes in the Okanagan. 
---
About the author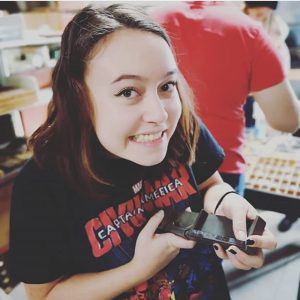 Sarah Kloos is a transfer student from Okanagan College. She's a Creative Writing major, a collector of cool rocks, and a lover of novels. While she's still not 100% sure what she's going to be when she grows up, she's okay with that. For now, she's learning everything she can from her co-op work term, and loving every minute of it.