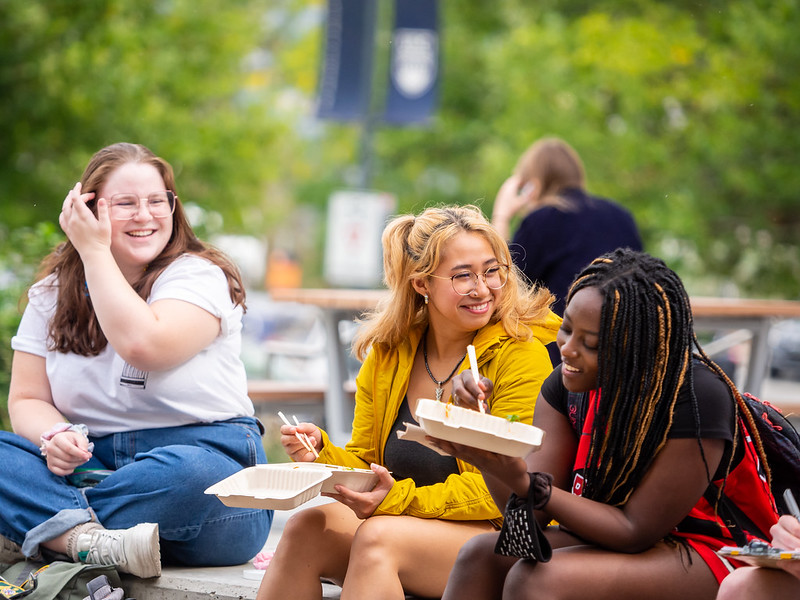 If you're new to residence this year, chances are you're worried about what settling in is going to look like. Beyond making yourself feel at home in your room, you might be thinking about making friends. You're moving into a new community with a bunch of people who will start out as strangers. By no means is it easy. But you can make it easier by coming in with a good perspective and by taking advantage of opportunities that come your way.  
Perspective
As corny as it may sound, your year in residence will be what you make of it. Your perspective will influence what you do and what you do will impact how you feel, and this loop will continue throughout the year making your experience. With this said, there are a few key mindset basics to hold onto: 
Be yourself

: Trying to act in a certain way or forcing interest in certain things will mentally exhaust you. There will be people who share your passions, sense of humour, taste in music, etc. Let these commonalities come about naturally. The most effortless connections will likely be the strongest ones you make. 

 

Be open:

If you're someone who's more reserved, this might mean going outside of your comfort zone. I'm not saying that you need to pretend to be an extrovert, but getting to know others means them getting to know you. Take it at your own pace but remember to make an effort. 

 

Don't take things too personally:

If a friend from the beginning of the year starts to drift away, don't take it personally. Approach the situation from a place of understanding and rely on positive communication to sort things out.  

 
Be kind:

Whether you're holding the door for someone, saying hello, or giving directions, random acts of kindness can help you meet new people. They also contribute to a chill environment in residence where everyone feels comfortable. 

 
Take action
Having the right perspective to make friends is one thing, actually doing it is another. What I've found in university is that making friends takes care of itself. Nearly everyone is looking to meet new people and make connections. The main point is to put yourself in positions where you can meet and interact with people. Luckily for you there will always be opportunities to do this throughout the year.  
Attend Residence Events
There are passive events that occur virtually. These will allow you to get to know others even when you want to be in your own space. 

 

There will be active events like capture the flag, where you can bond with your housemates

 as you work together to beat the competition. 

 

Holiday Events: These will feature decorations around residence, programs run by your Residence Advisors (RAs), and special meals at Pritchard Dining Hall. 

 

Resnights/tournaments: There will be a weekly resnight in the gym, where all the sport lovers can get together to play volleyball, basketball, futsal etc. You can also attend and compete with your building team at the different sports tournaments throughout the year.

 
Go to Programs
Your RAs will run plenty of programs this year to help make residence a fun place. These programs will involve food, film, sport, etc. They are a great way to get to know the people you live with. If you have ideas for fun community programs, share them with your RA and you might just see them happen!  
Don't skip out on Floor Meetings
These may sound boring, but they could also be useful in becoming familiar with residence, especially at the beginning of the year. You might even find your first friends at a floor meeting. Your RA will give you time to meet and chat with your floormates during these meetings.  
say hi at Pritchard
Pritchard is the dining hall where you will be eating every day if you have a meal plan. It will be the perfect place to catch up with friends daily and bond with others over all things food related. Once it becomes a regular part of your routine, you'll find that it's incredibly easy to spend hours talking, even more so than eating at Pritchard.   
Hopefully these tips can be useful for you as you go through your year in residence. There's no doubt that it'll be a lot of fun. But even when it's not, always put yourself in the best position to thrive. There's a ton of resources available to you, so if you ever need help don't be afraid to reach out! 
---
ABOUT THE AUTHOR
Alvin Nganga is an International Student from Nairobi, Kenya. He's an international relations major and a lover of basketball and all things creative. As a summer content creator, he's looking to entertain and connect with the UBCO community. In the process he hopes to meet new people and have a lasting impact in whatever way he can.