For those who will be new to residence this year, the prospect of living in a brand-new community can be quite daunting. Understandably, you'll have loads of questions about what to expect. While some of them will be better answered when you get here, there are a few things you should know as you prepare to get settled in the Okanagan. 
Where will you live?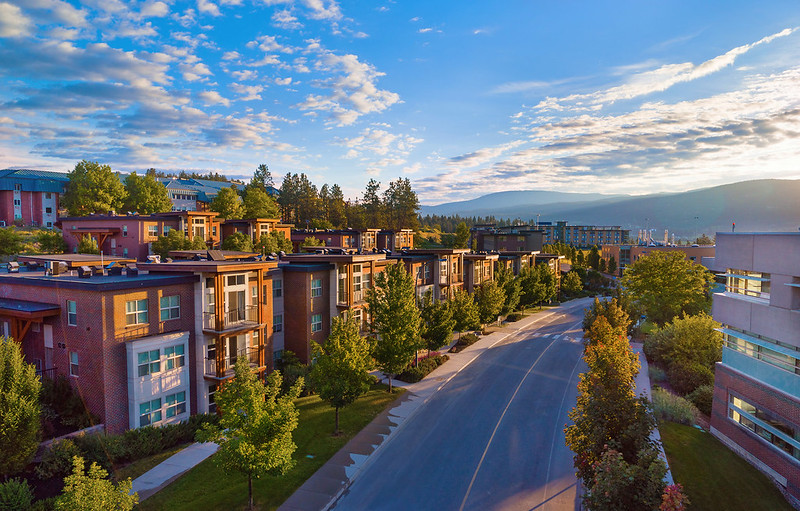 By now, you should have received your housing offer and you may even know which residence building you will be living in. Find out more about your home for the next year. 
Traditional Style
There are eight traditional style buildings:  
Nicola

 

Purcell

 

Kalamalka

 

Cassiar

 

Valhalla

 

Similkameen 

 

Skeena

 

Nechako

 
If you are placed in trad-style residence, you and your roommate will have your own rooms which are connected via a shared bathroom (with the exception of Similkameen). You will have access to several communal spaces including a kitchen, lounges, study rooms and laundry rooms. 
Suite Style
If you are placed in suite-style residence, you will either be in Cascades or Monashee. In the Cascades, you will live in a four-bedroom suite with three other students. The suite has two bathrooms, as well as a shared kitchen and living room. 
In Monashee there are 70 three-studio suites, 20 one-bedroom suites and 22 four-bedroom suites, each with their own specific features.   
To get more details about traditional or suite-style residence check out the UBCO housing website. 
 For videos of the residence buildings and the surrounding environment, follow the @UBCOstudents account on Instagram.
Packing for Move In
Gotta have it
The following are a few essentials for residence life: 
Bedding:

You will be in charge of providing your own bedding. Sleep is likely going to be the best remedy for most of your uni problems and so investing in good quality bedding (a comforter perhaps) would be wise.

 

A kettle:

Being able to heat up water for a glass of coffee/tea at night is a convenience that you will greatly appreciate. 

 

Dishware:

Even if you mostly eat at the dining hall, having dishware gives you the flexibility to eat elsewhere when you'd like. 

 

Cleaning materials:

Most of the time, your room is going to be your safe space. It'd be in your best interest to keep it in good condition. 

 

Decor:

Whatever your aesthetic is, apply it to your room to make it a familiar and comfortable place for you. 

 
Don't really need it
Despite what you may think, the following items are really not essential:  
Big appliances:

Large appliances like normal-sized fridges and microwaves aren't allowed in residence because they take up way too much space in your room and could cause an energy trip. There are communal fridges, microwaves, etc. available in your kitchens. 

 
Furniture

: If you have a favorite chair that you want to bring with you feel free. Just avoid bringing a full set of furniture because your room is already fully furnished. 

 
Residence amenities
Located in Nechako
(Important: these amenities are available to all residents) 
Front desk:

The front desk is where you will go to pick up your keys, when you are locked out of your room, to pick up mail etc.  

 
Pritchard:

The Pritchard dining hall is where you will be eating. If you have a mandatory meal plan, you'll be eating here regularly. If not, you can visit at your own convenience. 

 

Convenience store:

The convenience store offers an assortment of snacks and a few household essentials. You can use your flex-dollars when shopping here. 

 

Fitness room:

The fitness room is open to all residents and offers several machines as well as some space for calisthenics/bodyweight exercise. 

 

Music rooms:

There are three music rooms in Nechako, each already equipped with a piano. You can bring your own instruments to these rooms as well. They are available to all residents on a first come first served basis. 

 

Game room:

The game room is right next to the Front Desk and has a pool table and a ping pong set up.

 
Student Learning Hub study room:

This year, there will be a Student Learning Hub room in Nechako, where residents can receive tutoring and attend SL sessions

 
Throughout Residence
Internet access:

Each room in residence will have its own Wi-Fi access, and there will also be Wi-Fi in a majority of the communal spaces. 

 

Study rooms:

There are study rooms in every traditional style residence building. They can be a great resource for changing up the scenery when campus/your room don't seem to work.  

 

Events:

Residence Advisors and clubs will be hosting several events including holidays, residence building tournaments, and other fun challenges. These are a great opportunity for meeting friends in residence. 

 

Ping pong:

In Nechako, Skeena and Purcell you will find a ping pong table equipped with paddles and ping pong balls. If any equipment is missing, refer to the Front Desk in Nechako. 

 
Who you gonna call
? 
RAs:

The Residence Advisors are your go-to resources for most of your residence matters. Whether you need help or just want to chat, they'll be there for you. Your own RA will tell you a great deal about res-life and will let you know how to best contact them when need be. 

 

RLM:

The Residence Life Managers are the caretakers of UBCO residence. While they handle a lot of the regulation matters, they are also friendly people who love to see residents thriving. 

 

Campus services:

There are a variety of campus resources that are available to make you feel safe and at home in residence. A great example is safe walk, a program that enlists certified volunteers to escort you home when you feel unsafe (reachable on

250-807-8076

). Your RAs will let you know about several others in your first meeting after moving in. 

 
These are just the basics for on-campus living. Upon your arrival, Residence Advisors and student housing staff will be able to answer more of your questions. In spite of the worries you may have, try and keep an optimistic and open mind. That is probably the biggest essential to successfully navigating your time in residence.  
---
ABOUT THE AUTHOR
Alvin Nganga is an International Student from Nairobi, Kenya. He's an international relations major and a lover of basketball and all things creative. As a summer content creator, he's looking to entertain and connect with the UBCO community. In the process he hopes to meet new people and have a lasting impact in whatever way he can.