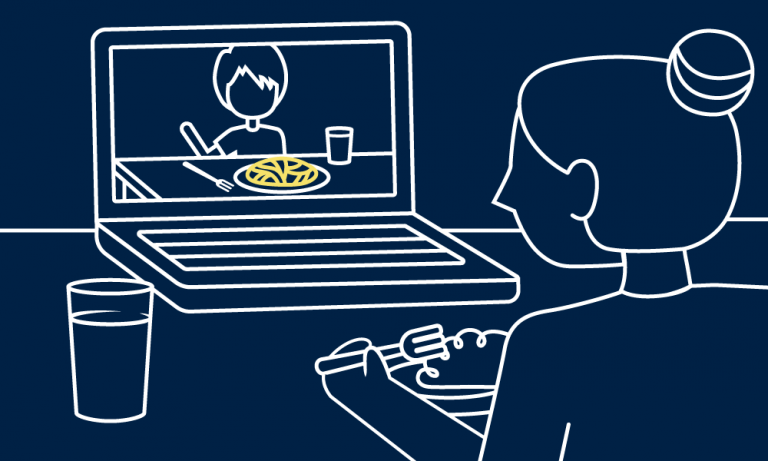 As we do our part to flatten the curve by practicing physical distancing, we also need to find new ways to connect socially. These connections can be an important part of maintaining our mental health and wellbeing while we adjust to unexpected change.
We reached out to UBC Okanagan Health and Wellness counsellors for tips on how to create meaningful connections while we are physically separated.
Make virtual connections
You might already be using Zoom or a similar online meeting service to connect with professors and fellow students. Make the most of the platform and start a study group, host a virtual dinner party, or celebrate a friend's birthday.
Set up a window display
In many neighbourhoods across Canada people are placing teddy bears and pictures in their windows. Others are writing hopeful messages or posting jokes to connect with passers-by. Also, consider joining the white heart project and placing a white heart in your window to honour first responders.
Support others and ask others to support you
Reach out, see how your friends, family, and neighbours are doing, but don't forget to ask for help if you are in need. Being physically distant might make it hard for others to notice something is wrong. It is important to reach out for support if you are finding it hard to cope. Fortunately, there are a number of resources for students and resources for faculty and staff to help guide you.
Practice gratitude
Journal or acknowledge three things you are grateful for each day and share them with others.  This helps reorient our brains/thoughts towards the positive things around us.
Try something new
Do something you have never had time to do before, learn a language, take a masterclass, try a new workout or learn to meditate. It can be a welcome distraction from the constant news and social media cycle.
Limit your news intake
Try to keep exposure to this information short and to only once or twice per day. This can help you reconnect with yourself and reduce the feeling of being overwhelmed and disheartened by external things beyond your control.
Remember that this is temporary
When practicing physical distancing, days can seem long and it can feel like there is no end in sight. While there is still an air of uncertainty, we must remember that it is only temporary and we can still find ways to be socially connected and supportive in our communities.
Looking for more support? Visit the Maintaining Mental Health and Wellbeing page for a list of UBC resources available to students, faculty and staff.