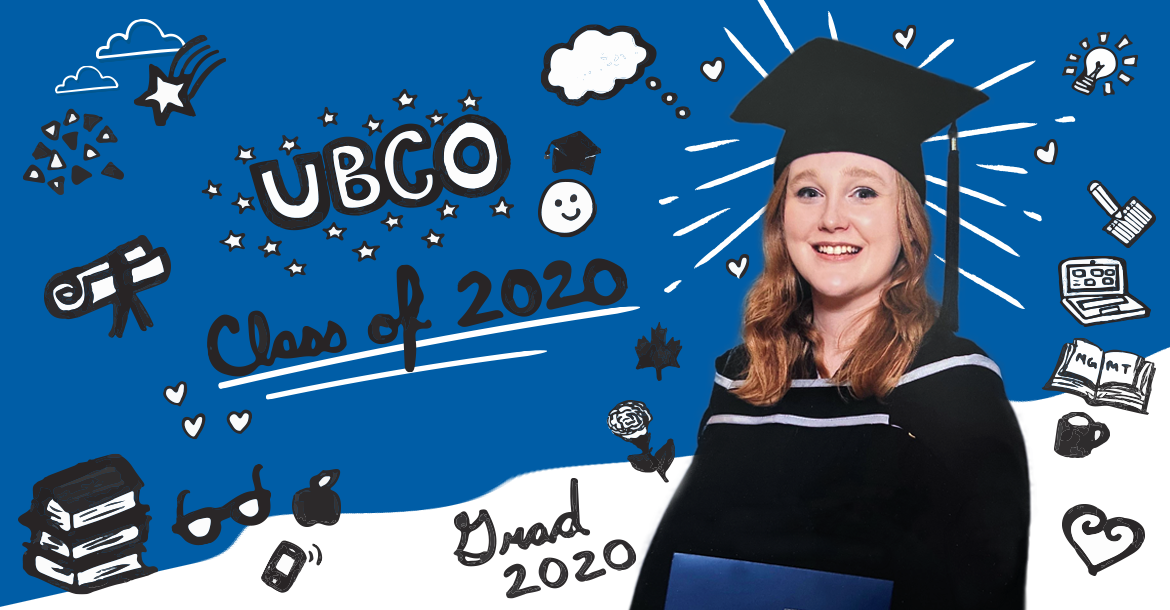 I am a UBCO graduate. It feels weird to say. After five years, I've finally made it. I finished my degree. Yet, something about it doesn't feel like the end — maybe because I didn't really have an ending in the traditional sense.
I think many grads are feeling the same way I am. One day, I was rushing to get ready and catch the bus for my 40-minute ride to get to campus, so I could sit in lecture halls where I was surrounded by classmates. The next thing I knew, I was waking up ten minutes before an online class, attending in my pyjamas, far apart from any of my peers.
Some classes abruptly ended, some were pre-recorded and some occurred in real time but were delivered through technology. It made me realize how much I had taken those physical classes for granted during my time in university.
When I started university, I was excited to do a few things. The first was to attend big lectures like the ones I saw on television. The second was to do things introduced at orientation, like join clubs and participate in management-specific milestones like Capstone. The third was to make new friends from around the globe.
The final thing was to walk across the stage and get my degree at a traditional graduation ceremony.
Looking back, accomplishing three out of four of the things 18-year-old me wanted to do is not that bad; but when the email came out announcing that our graduation ceremony was postponed, I was devastated.
At the time, it felt like everything was ripped out from underneath me suddenly. Classes had been suspended and I lost my last few months with friends who would disperse across the globe after graduation.
I lost in-person meetings for group projects, which made it much harder to hold everyone accountable, and in-class presentations to demonstrate our hard work. I also lost motivation.
"At the time, it felt like everything was ripped out from underneath me suddenly."
That is, until I received an email check-in from one of my professors, Dr. Eric Li. He wanted to know how we were all coping. I sent him an honest email about how my whole group was losing focus on a project. We were unable to reach community partners or even each other half the time. We were relearning how to communicate and work together.
Dr. Li put it in a different perspective telling me, "You are staying home to save the world." He reiterated that it was not easy and he empathized, having gone through it himself during the SARS outbreak. It may not have felt fair but it was a sacrifice we had to make to keep people safe.
The grad class of 2020 is selfless. We may not have always been so individually, but collectively we did and are doing our part to see the world return to normalcy.
And it was not all loss. In a matter of weeks, we innovatively pioneered new ways of learning at our university. We found new ways to stay connected while staying apart. We finished classes despite Wi-Fi troubles and closed services. Above all, we did it together.
It may seem difficult right now, but remember the times that led you to this moment.
Think of sitting in Create, surrounded by strangers who would become friends. Think of the first presentation you aced. Think of that exam you thought went horribly only to find out later that you did a lot better than you thought. Think of late nights studying with friends when you got sidetracked and couldn't stop laughing. Think of your favourite event you attended. Think of the people that went from strangers to friends.
Hold those memories close.
It is okay to mourn the loss of what would have been. Your feelings are not your burden to bear alone. There are 15,000 other UBC graduates here all going through this with you.
I took the five-year degree route because I chose the co-op program. After the university suspended in-person classes, I asked myself, "Why did I do that?"
If I had gone the normal four-year route, I would have graduated last year with most of my friends and would have had all the 'normal' moments we were expecting.
Then I thought about how I would have missed out on my amazing co-op position here at the University. I would have missed out on taking classes with the incredible people in the class of 2020 and making new friends. I would have missed out on taking classes that were not offered the previous year.
There will always be "what-ifs" in our lives, but those what-ifs are in the past and — if 2020 has taught us anything — things can change in an instant.
We have learned resiliency and how to adapt and change what we have here and now. What we do now determines what our futures will look like.
We are the future. We are the future business leaders, scientists, politicians, engineers, doctors, nurses, teachers, artists and more.
We keep hearing how this pandemic will change the world. The world changed after the Spanish Flu of 1918. But back then they did not have tools like Zoom to see friendly faces and keep connected, or social media to get second-by-second updates on what was happening.
"The class of 2020 is a new kind of learner — one who embodies the past but also steps proudly forward into the future."
These are times of continuing change. Here is when scientists are making breakthroughs, politics are sparking debates, and human rights and diversity are being championed. Here at UBCO, we are getting a head start.
We are future newsmakers and thought leaders. We are adaptable and resilient. The class of 2020 is a new kind of learner — one who embodies the past but also steps proudly forward into the future.
I am so proud of us. Despite all the hardship, after hours of studying, lectures, and late nights, here we are. We made it. No person or virus can ever take that away from us.
Congratulations to the UBCO Graduates of 2020.
---
Join us in celebrating the very real accomplishments of UBC graduates at our virtual ceremony on June 17, 2020. While we may not be gathering in person, we stand with our graduates in spirit, take pride in their achievements and share their joy.
Everyone is invited to take part in the celebration and show your support for our indomitable class of 2020.
Watch the UBC Okanagan ceremony on June 17 at 2:30 p.m. PDT at virtualgraduation.ok.ubc.ca
Watch the UBC Vancouver ceremony on June 17 at 9:30 a.m. PDT at virtualgraduation.ubc.ca/vancouver
---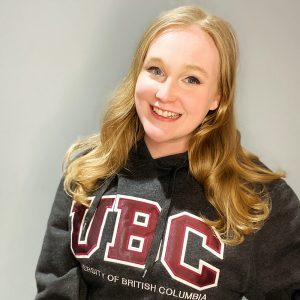 About the author
Kimberly Billinton is a major entrance scholar, Disney movie aficionado, and award-winning short film writer and producer. After graduation, Kimberly plans to follow her two passions of marketing and screenwriting, and aspires to be the showrunner of her own television show one day.
Kimberly holds a BMgt from UBC's Okanagan campus.